HUMAN NATURE
ARTISTS' RESIDENCY AT
MAIDSTONE MUSEUM, KENT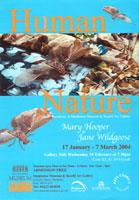 (Click on images to enlarge)

DURING 2003 JANE WILDGOOSE developed an artists' residency at Maidstone Museum with visual artist Mary Hooper, leading to the exhibition Human Nature in the Museum's Bentlif Art Gallery from January - March 2004.

The residency was developed in close collaboration with the museum's curators who gave Jane and Mary guided access to the stores of the Costume, Natural History and Human History collections. Themes in the artists' work (including an investigation of the world of Charles Dickens's Miss Havisham - the jilted bride who stopped the clocks as she received a letter of rejection on her wedding morning in Great Expectations) became a starting point for numerous visits to the museum's stores, where Mary and Jane drew, photographed, and selected items to include in the exhibition - some of which have not been exhibited in living memory; many of which are damaged.

Damaged items in museum collections - or those with little information known about them - can be consigned to storage for long periods; their exhibition

cannot usually be considered without extensive (and expensive) conservation or academic investigation. Human Nature, however, allowed such items to be shown with their wear and tear as an integral feature of the thematic development of the exhibition. Alongside the museum's objects, Mary and Jane exhibited a series of new artworks they have made in response to the collections (including Miss Havisham's wedding dress - a combination of antique costume and newly produced textiles), as well as work made during a previous residency together at Bexhill Museum of Costume & Social History during 2000-01 (one of the Arts Council of England's 'Year of the Artist' projects).

As part of Human Nature, the artists worked with tutors and students from the sugarcraft and pattern cutting courses at Maidstone's St. Faith's Adult Education Centre. Together they made items for inclusion in the exhibition which pay tribute to Miss Havisham: roses, lilies, and orange

blossom - flowers traditionally associated with women and weddings - crafted from icing sugar paste in reference to Miss Havisham's bridal cake, and displayed on the gallery's fine late 19thc. fireplace; delicate paper sculptures, based on garment pattern cutting methods, that encase dried flower petals and butterfly wings, reminiscent of Dickens's description of Miss Havisham's dress resembling "earthy paper". Jane's Moths that nested in Miss Havisham's trousseau (made from skeletal leaves, diamanté and beads) hovered in cabinet displays with fans and gloves, alongside drawers of specimens from the museum's 19th century Lepidoptera collection; Mary's photographic studies of hedgerow flowers emblemising the passing of the seasons were displayed alongside floral embroideries and samplers from the museum's applied art collection.

Human Nature explored the poetic relationship between women, nature and time, using traditional floral symbols to be found in dress, textiles and embroidery. It also examined the use of natural history materials: ivory, bone, feathers and fur, in the history of women's costume and accessories, and addressed the way in which museums themselves attempt to 'stop the clock' through the collection and conservation of objects.

Links: