VIEWING THE INSTRUMENTS
A new musical theatre production inspired by a surgical operation was premiered on 8 October 2003 in Hull before embarking on a national tour of UK venues.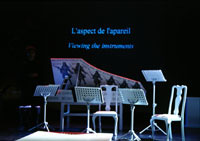 (Click on images to enlarge)

Viewing the Instruments (a line taken from the original French of the text) is a production based on the completely original piece Le Tableau de l'Opération de la Taille by the 18th century French composer Marin Marais. The Marais work depicts an operation - without anaesthetic as befits the era - to remove stones from the bladder. It's one of the earliest pieces of programme music and for centuries has been a musical curiosity and an enigma for music scholars. Why would a composer write such a ghoulish description of pain? Viewing the Instruments attempts to solve this unanswered question.

Using the short Marais work as the trigger for a new piece of music theatre, six newly commissioned pieces of music by six different composers are worked into the theatrical plot, taking the listener along a surgical journey which skims reality. Three of the works are being performed for the first time, while the other three received a work-in-progress airing in the Old Operating Theatre, in London SE1, in 2001. With composers as varied as Martyn Jaques, who won much acclaim as the falsetto singer/musician in Lyric Theatre's hugely successful horror-musical Shockheaded Peter, Paul Barker the music theatre and opera composer, the cellist Graham Waterhouse, and Eddie McGuire, one of Scotland's foremost classical and folk composers, the new commissions are guaranteed to bring vivid expression to the text.

Viewing The Instruments is performed by two actors, three musicians and two narrators, one of whom is the consultant gastroenterologist Dr Peter Isaacs, who appears on stage for the first time. Candid comments from patients and medical staff are woven into the narrative, as are close-ups and personal visual moments, including the route of the endoscope! In fact the endoscope was the original inspiration behind both Rachel Stott and Eleanor Firman's compositions, as they observed Dr Isaacs at work in Blackpool's Victoria Hospital. The length of the Marais work - 3 and 1/2 minutes - is exactly the length that the surgical procedure would have taken to perform in the 18th century, and the six contemporary composers have been briefed to keep to the same duration.

Links: