'It's no accident The Wildgoose Memorial Library is dedicated to Persephone because, as Jane pointed out, there's "no winter without summer"'
Ivan Cenzi, My Week of English Wonders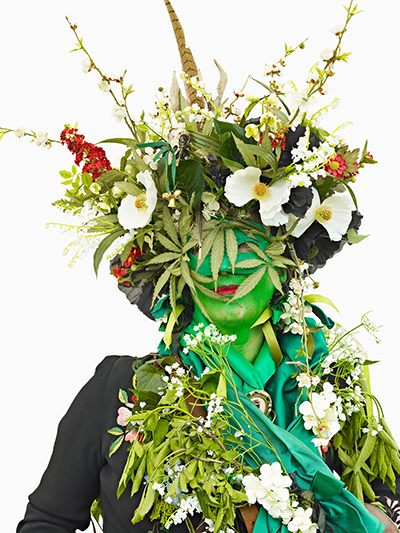 Jane Wildgoose, Hastings Jack in the Green, photo courtesy of Henry Bourne (2009)
Since its inception in 2003, work at The Wildgoose Memorial Library has followed the rhythm of the year: with regular opening events on the Autumn Equinox in September, and a supper to mark the WML's nominal closure on the Spring Equinox in March. At the Winter Solstice in December, Jane Wildgoose invites close friends and loyal WML Readers to keep the wine flowing and candles burning throughout the longest night; and in May she is a regular presence welcoming Summer at Hastings Jack in the Green, as celebrated in Henry Bourne's iconic photograph published in Arcadia Britannica (Thames & Hudson, 2015).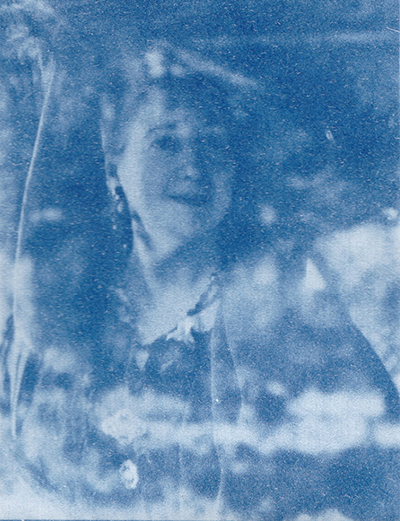 Eavesdropping, Roelof Bakker, cyanotype portraits and video of Jane Wildgoose (2021)
Eavesdropping celebrates Jane Wildgoose's long and productive collaboration with artist and artists' book publisher Roelof Bakker. Evolving from a series of cyanotype prints, and a snippet from a recording made on Roelof's phone of Jane reading from her essay 'A Visit to the Archives,' in Strong Room (Bakker and Wildgoose, Negative Press London, 2014), Eavesdropping is a testament to the dynamic relationship between muse and photographer, subject and viewer - of watching and being watched.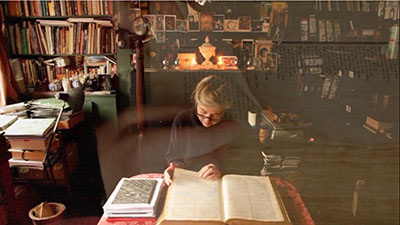 At Home in The Wildgoose Memorial Library, Roelof Bakker, 10-minute video of the WML (2020)
At the close of 2020 Rebecca Duclos, Professor of Art History at Concordia University in Montreal, commissioned Roelof Bakker to collaborate with Jane Wildgoose to produce video footage of The Wildgoose Memorial Library. Agreeing to use only the very little natural light available in the depths of midwinter, Roelof produced lyrical documentation of the Library: sympathetically capturing its darkling essence before it was comprehensively dismantled to make way for a programme of renovations including rewiring and redecoration. As part of this process, and during R&D as artist in residence in the Digital Lab at King's College London during 2021, Jane would select and remove items including ivory, coral and taxidermied trophies which, although collected without question in the past, raise ethical issues about being in collections today. Roelof's footage captured the final moments of the life of these items in the Library before being packed up for the next phase in the project: with plans for them to have a new life online as a digital resource for debate about the status of problematic items in collections.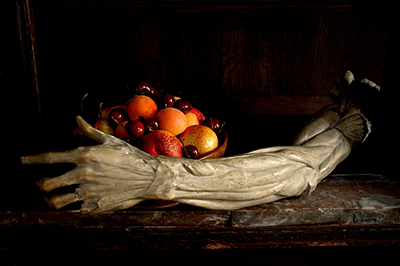 The Wildgoose Memorial Library, hour-long broadcast about the WML, Time is Away, NTS Radio (2023)
In collaboration with Elaine Tierney and Jack Rollo for Time is Away and NTS Radio, in Spring 2023 (on 17th April at 4pm) The Wildgoose Memorial Library airs as an hour-long broadcast: which remains available to stream on Time is Away. A very big thank you to Elaine and Jack for such inspiring synergy, and to Fuchsia Wildgoose for permitting us to feature The Infant and the Library - her spellbinding account of growing up at the WML - in the broadcast, also to everyone who contributed.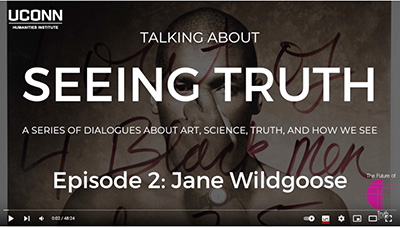 Talking about Seeing Truth, Jane Wildgoose interviewed by Alexis Boylan, University of Connecticut (2022)
In 2022 Jane Wildgoose was honoured to be invited to take part in an online interview with Alexis Boylan, Director of Academic Affairs at the University of Connecticut, as part of the University's Seeing Truth: Art, Science, Museums, and Making Knowledge project. With many interests intersecting with those of Wildgoose and the WML, Seeing Truth 'seeks to challenge audiences to see art, science, and truth anew in this political moment,' and 'to imagine new routes of knowledge between art and science and new truths that are generative, capacious, provocative, sustainable, and just.'

Not Forgotten, 5-minute film about Jane Wildgoose's work with remembrance and human hair made by students at LCC (2017)
When five first-year students from London College of Communication were asked to make a 5-minute documentary 'about anything of your choice in a certain area of London' they contacted The Wildgoose Memorial Library. Their film Not Forgotten is a little gem, which offers a haunting and painterly glimpse into the WML collection and Jane Wildgoose's work with human hair.

The Haunting Truth of the Portland Collection's Memorial Jewellery, Jane Wildgoose, online talk for Harley Gallery, Welbeck (2021)
Invited to speak by the Harley Gallery at Welbeck, Jane Wildgoose resurrected memorial jewellery in the Portland Collection - including the pearl earring retrieved from the head of King Charles I following his execution, and a heart-shaped earring with a hair tassel worn by Elizabeth Bassett in her portrait by Daniel Mytens. Reflecting on her understanding of these items as relics, Jane also discussed how work with her own collection, The Wildgoose Memorial Library, has led her to an appreciation of the ways in which human hair may be valued as a material 'beyond all price.'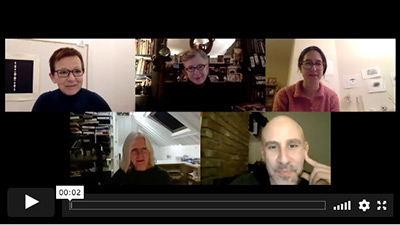 Is There an Equivalence to Life Writing in Visual Arts? Jane Wildgoose, online conversation in two parts with Dust Architects (2021)
Intrigued by how Jane Wildgoose's role as Visiting Senior Research Fellow in the Centre for Life-Writing Research at King's College London relates to her practice as an artist, Dust Architects (an artists' collective who share interests around working with autobiographical material) invited her to discuss how the field of life writing may be understood in relation to their practice. Asking Is There an Equivalence to Life Writing in Visual Arts? their conversation appears in two parts on Dust Architects' website.

Copyright Jane Wildgoose and The Wildgoose Memorial Library